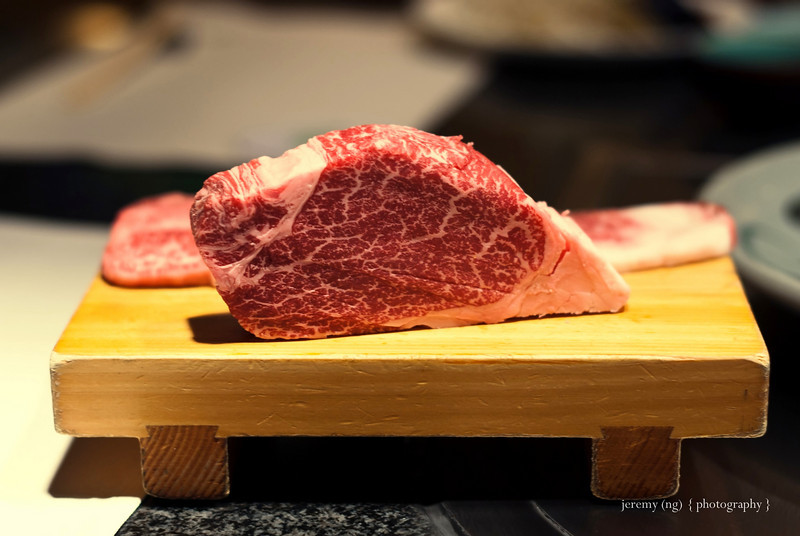 The BEST BEEF we've ever had…. Kobe Beef! Those who have tried it weren't kidding when  they described it as "melt-in-your-mouth, mouth-watering-goodness!" You can see the difference just by looking at pictures of regular beef vs kobe beef.
[bq_right]According to legend, these cattle are fed beer and massaged daily with sake. How true is that?[/bq_right]
You can't just call any beef "Kobe beef". There are standards and restrictions that must be met in order for any piece of meat to be labeled as "Kobe Beef". They must be beef from the Tajima breed of cattle raised and processed in Hyogo Prefecture, Japan. They must have a "marbling ratio" of BMS level 6 and above. According to legend, these cattle are fed beer and massaged daily with sake. How true is that?
Regular beef…
[two]
MELT-IN-YOUR-MOUTH
What makes the beef melt in your mouth? It's because the fat in Kobe beef are monounsaturated fat ("good fat" that lowers your cholesterol) which has a lower melting temperature. It'll begin dissolving at 77F degrees. That's why most preparation of Kobe are usually quick sears in the form of tepanyaki, sukiyaki or shabu-shabu.
Apparently, if prepared as steak, it would liquefy if cooked past medium rare!
[/two] [two_last]
RESTAURANT RECOMMENDATION
There are probably a ton of restaurants that serve delicious kobe beef all over Japan. If you know of some, do leave a comment and let us know!
We decided to go to the restaurant that our friend, Tao Chuan recommended the last time Shirl visited Japan: Restaurant Wakkoqu (和黒) in Shin Kobe. It's also very easy to get to. [/two_last]
Shin Kobe is only about an hour away from Osaka and Kyoto via JR train. So if you're in town, you should consider "going to Kobe for lunch"! We went to Kobe from Osaka via JR Shinkansen. When you arrive at the JR station just head out of the station and you'll see the Shin Kobe Oriental City building building in front of the JR station:
It's hard to explain the location of the restaurant in the building… Once you get there, look at the directory for Wakkoqu restaurant which is located on the 3rd floor (3F) of the building. If you get lost, ask around for "Kobe beef" or "Wakkoqu" and people will point you to the restaurant.
We were enjoying our meal so much that we actually forgot to take pictures while we were eating! That's a good thing I guess… Here's the couple of pictures that we DID take of our meal and of  Restaurant Wakkoqu!

Yes, the following are garlic slices and yes, they flip each and every one of them, carefully…
Photos from Shirl's trip in 2009…

BUT… we must warn you… Kobe beef is NOT cheap. Our 2-pax dinner set (included appetizer, meal, dessert and coffee) cost us 20,614 yen (~$250)! We learnt that if we had arrived just 2 hours earlier, we could've gotten the lunch set which is as fulfilling but far cheaper!
Bon Apetit!
[notification type="star"]
To save money, go for lunch instead of dinner. Portions for lunch is sufficient AND cheaper than dinner!
If you are in Osaka or Kyoto, take the ~1 hour journey to Kobe to have lunch!
Order the Kobe beef without the set menu to save more money. But, we must say that we had the set menu and it was worth the money.
Restaurant Wakkoqu is 2 minutes walk from Shin Kobe JR station
To save more money, buy kobe beef from the grocery stores and cook it in your hotel room (if you have a kitchenette). We bought 2 pieces of kobe beef in the grocery section within the JR station and cooked it in our hotel room. It has the same melt-in-your-mouth quality and tasted delicious. Best of all, it only cost us 10,000yen for 2 pieces of beef – won't beat the ones you get at restaurants but it sure was tastier than regular steak back in the US!
[/notification]