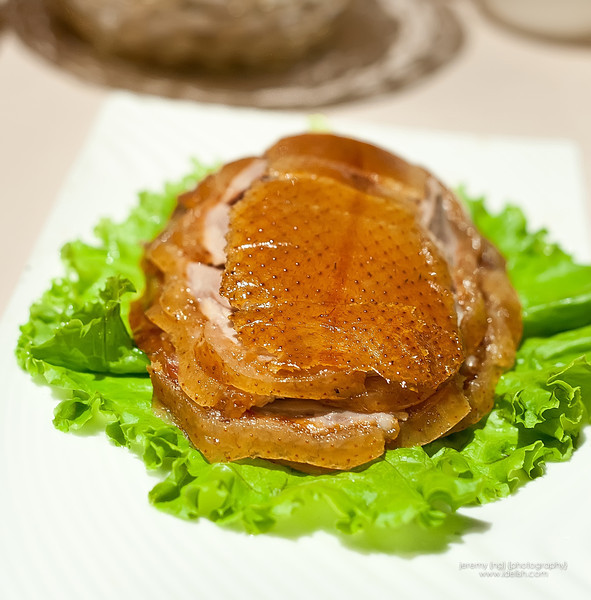 Headed to Beijing? How does a scrumptious, memorable meal sound to you? Fresh in our memories from our recent trip to Beijing is the Da Dong Roast Duck restaurant and we highly recommend it!
On our first night in Beijing, we tried another Peking duck restaurant – Pein Yi Fang. We paid about RMB180 per duck (~USD30). The duck was delicious but it wasn't spectacular. The skin had a layer of fat and was not crisp as we had expected. We were also disappointed that the no smoking rule was not enforced at this restaurant – the room was full of cigarette smoke towards the end of dinner.
Beijing Da Dong Roast Duck Restaurant however was a world of difference! Even the no-smoking rule is enforced which we were very happy with.
Asking someone in Beijing where to eat the best roast duck is like asking someone in Japan where to eat the best sushi. There are various different roast duck restaurants in the city and you will no doubt get different recommendations depending on who you ask. But if you were to ask us, it is Da Dong, hands down!
What makes a good Peking roast duck? It's all about the skin! On a regular roast duck, the skin is still fatty and attached to the meat. On a Peking duck, the  fat is mostly gone, leaving only a thin layer of skin wrapped around the flavorful and juicy duck meat. The skin is crisp, light, thin and melts in your mouth. Dip it in sugar and it's pure heaven. I could eat an entire plate of just good roast duck skin for dinner!
In traditional Peking duck, you wrap the duck meat in a thin layer of pancake. In Da Dong, you'll also be provided with crisp buns besides the thin "pancakes". Don't worry, the server will demonstrate exactly how to eat and fully enjoy your roast duck using all the garnishes and wraps that are provided.
Besides the duck, they have a host of other dishes (the menu is about 100 pages thick!). Most dishes are illustrated by beautiful pictures and are well described in english. Every dish we ordered were delicious – from the seahorse soup to the veal to the tofu to the roast duck!
Our meal at Da Dong was definitely memorable – one that we'll remember Beijing by, besides the Great Wall of China!
The other famous roast duck restaurant we heard about is Quanjude. We unfortunately did not have time to visit that restaurant on this trip. If you've been to Quanjude and Da Dong, what did you think about the two? Which did you like better?
[notification type="star"]
TAKEAWAYS:
Beijing Da Dong Roast Duck Restaurant – we highly recommend having dinner at this restaurant on your trip to Beijing!
There are several locations of Dadong. The Da Dong restaurant branch we went to is located at 1-2/F, Nanxincang International Plaza, 22A Dontshishitiao, Dongcheng District, Beijing, China. Phone: 86-(0)10-5169-0329
It is very easy to get to. Just take the Beijing Subway and stop at Line 2, Dongshishitiao (东四十条). It's a short walk from the station.
You can just ask anyone in the area, say "Da Dong" and they'll point you to the restaurant.
The roast duck at this restaurant will set you back RMB238 (~USD38). Totally worth every penny. One duck is probably sufficient for about 2 – 4 people.
The restaurant enforces the no-smoking policy.
Be sure to make a reservation. For walk-ins, it's best you try to get there early (e.g. before 6pm) or later at night (e.g. after 8pm). We were not able to get a same-day reservation, so we showed up at 8pm and were seated within 30 minutes.
Another way to get a reservation is by reserving the VIP room for a price RMB400 (~USD63). You should check with the restaurant for the most up to date pricing.
[/notification]
Have you been to Da Dong Roast Duck Restaurant? Is there a better roast duck restaurant in Beijing you'd recommend?
Don't forget to like, share, +1, tweet, stumble and share your comments below!