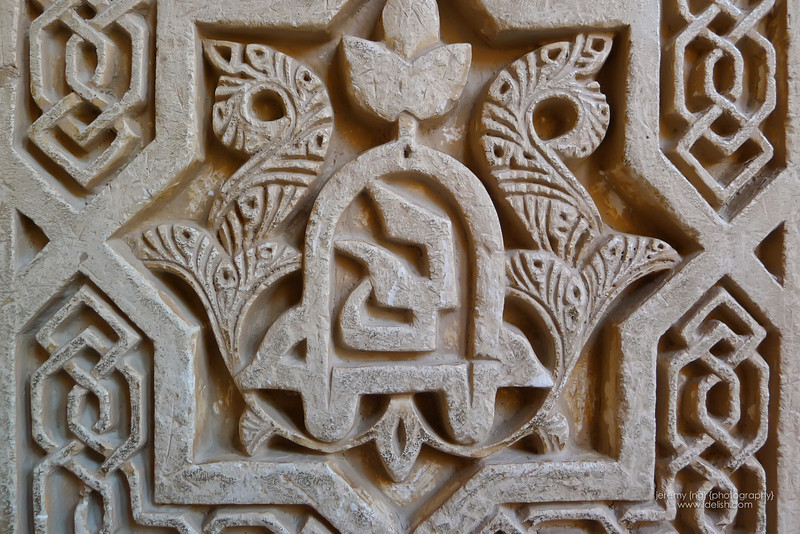 Alhambra is THE reason we added Granada to our Spain itinerary.
When we saw the beauty of the place in travel magazines and photos taken by our friends who have been to Granada, we were sold! We even stayed at Sacromonte that had a beautiful view of the Alhambra from across the valley!
We were reminded of the Taj Mahal as we admired the intricate carvings, calligraphy-engraved walls and incredible landscaping. The resemblance to Taj mahal is due to the Islamic influenced designs that dominate the structures that make up the Alhambra — the Charles V's Palace, the Alcazaba (Fortress with towers and view), Palacios Nazaries (Palace) and Generalife (Palace Gardens).
There are so many features and beautiful designs in this area, it would take me at least another 50 pictures to show them all to you. Here are just some of the highlights…
I can go on and on with picture after picture of our visit to the Alhambra but we'll save some for you to discover for yourselves when you visit!
[notification type="star"]
TAKEAWAYS:
The Alhambra is a top tourist attraction in Granada and Spain. It's a must-see for any visitors to the area.
You can get there by taking minibus No. 30 or No. 32 from Sacromonte or downtown. It runs every few minutes and costs €1.20 per person (pay on board).
Expect to spend at least half a day there when you visit.
There are limited tickets sold per day, so get there early if you did not pre-book General Day Time Visit tickets.
There are also night visit tickets. Due to the cobblestone pathways and many stairways, we'd recommend a daytime visit before you decide whether you want to go back for a nighttime visit.
Prepare to walk quite a bit at the Alhambra, so wear comfortable shoes that you can walk with on cobblestone paths!
Bring your debit or credit card and remember your PIN number. This will help you save an hour or two wait at the ticket line!
When you get there, go to the right hand side of where everyone is queuing up to buy the tickets. There are automated machines behind the souvenir store that lets you buy tickets with your card! But you MUST remember your PIN number regardless of whether you're using a debit or credit card!
When we were there, there were at least 50 people in the queue. There was only about 5 people at the automated machines!
The guided tour may not be a good idea if you want to take pictures of the spaces because it will be crowded with your guided tour group of people everywhere you go.
We rented the audio guides and were able to get to pick and choose where we wanted to go first and get to areas/spaces before the tour groups arrived. That gave us some time to take pictures of the areas without crowds.
Consider staying or visiting Sacromonte where you get a beautiful view of Alhambra from across the mountains.
[/notification]
Have you visited the Alhambra before? What advice would you share with potential travelers to the area?
If you liked this post, don't forget to sign up for our email updates, Like, Stumble , +1, Tweet and Share this post!