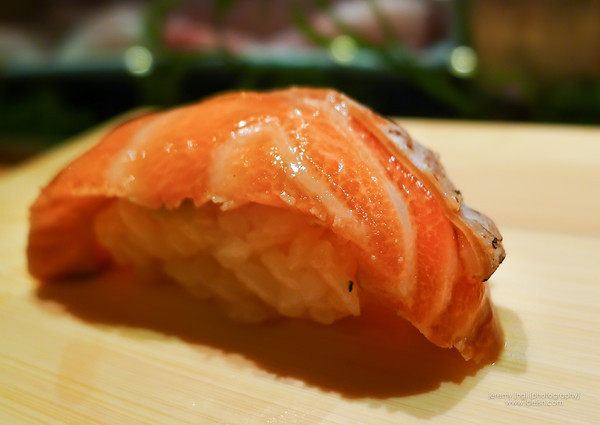 "Anything you don't eat or special requests?" asked the waitress. "No. We're OK with anything", replies Jeremy. From then on, our meal was in the hands of the chef. We ordered "omakase" (お任せ), a Japanese phrase meaning "I'll leave it to you".
Out of all the sushi restaurants we've been to so far, Sushi of Gari is among the best sushi restaurants outside of Japan!
The chef's original sauces that accompanies each piece of nigiri sushi you're served are what makes the sushi here special. The chef will tell you that there's no need for additional wasabi and soy sauce. Each piece of sushi served to you is "complete" and in perfect "taste" balance.
We highly recommend their omakase.
For our first nigiri, it was an ingenious combination of flavors and textures. The fresh slice of snapper, together with sauced vegetables and fried lotus root unleashed an explosion of flavors in our mouths. The perfect amuse-bouche for our meal! It was hard to choose a favorite because we liked every single dish we were served. Here are some of the highlights.
After the delicious meal, we ordered their mille-feuille dessert. It was just the right finish to our wonderful dinner.
According to the chef, the record number of sushi a person has had there in one meal is 65 pieces! We had 17 pieces of sushi each. It was expensive nonetheless but worth every penny! This was our christmas dinner meal – so we figured we'd splurge a little and we're glad we did!
[notification type="star"]
TAKEAWAYS:
For creative, fusion omakase in New York, we highly recommend Sushi of Gari.
Be sure to make a reservation as this place is always fully booked!
Ask to be seated at the sushi bar – the best way to enjoy your omakase.
Sushi of Gari is located at 402 East 78th Street New York, NY 10075
Sushi of Gari's phone number is 212-517-5340
The record number of nigiri eaten during one seating of omakase at the restaurant is 65 pieces.
Feel free to ask for any of the special nigiri mentioned above if you're not served it during your omakase.
Foie gras sushi is among the choices. If you do not want to be served foie gras, be sure to inform the waitress or the chef.
It's rather expensive. Our bill came up to about $10 per piece of sushi (rough average that included cost of dessert and tips).
[/notification]
Have you been to Sushi of Gari in New York before? Is there a sushi restaurant in NYC that's better than Sushi of Gari that you'd recommend?
If you liked this post, don't forget to subscribe to our email updates, like, +1, tweet, Stumble and share this post!