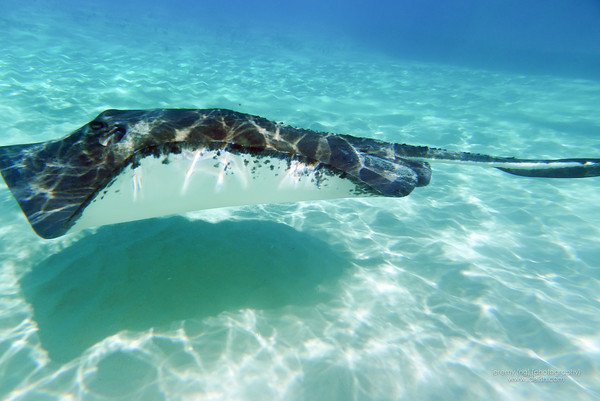 Mushrooms! It feels like a mushroom!
The underside of the stingrays at the Stingray City Sandbar in Grand Cayman (Cayman Islands) reminds me of Japanese Shiitake mushrooms. You know, the mushrooms that are smooth and almost "slippery" after they are cooked? The top of the stingray however feels like sandpaper.
We basically took a boat out to the northwest corner of Grand Cayman North Sound just on the inside of the barrier reef where the water was waist deep. We then hopped off our boat to what felt like "standing in the middle of the ocean". We could see the dozen or so wild Southern Stingrays (Dasyatis americana) that were swimming around us through the crystal clear turquoise waters!
How Stingray City Came To Be
This is not a penned up, artificial, man-made aquarium with captive rays. These stingrays are wild. We're in the open ocean and the stingrays are free to come and go as they choose.
These wild stingrays have long been in close encounter with humans.  Decades ago, fishermen would stop in these shallow waters just behind the barrier reef where water is calmer and fillet the fish they caught on the boat. The offal of the fish was then thrown overboard into the waters where the stingrays scavenge. I guess the stingrays have gotten used to humans and not only welcome but anticipate humans who bring food to them! In 1987, Skin Diver Magazine did a story about the area and since then, Stingray City has become a popular dive and snorkel site.
Didn't Steve Irwin Die Because of a Stingray? Are Stingrays Dangerous?
I'm sure the biggest question in your mind right now is whether stingrays are dangerous given the news you've heard about how Steve Irwin (the Crocodile Hunter) was stabbed in the heart by a Stingray's stinger. Well, as in everything other adventure you partake in, there's always a yes and no answer to the question.
Stingrays get their name from their stingers. When the stinger is used and penetrates a surface, a thin sheath containing venom breaks allowing poison to flow into the area. Stingrays do not use their stingers to attack prey. They use it for defense and rarely use it unless they are provoked or feel threatened.
Apparently, Steve Irwin either laid on top of the stingray, swam a few inches above where one was buried in the sand or swam right over the top of one. The stingray felt threatened and does what it normally does – raises its barbed spine for protection. Unfortunately, the stinger pierced Steve Irwin's chest. It is a freak accident and is a rare accident.
Stingrays are not dangerous but you can accidentally find yourself in a dangerous situation if you do not take precautions when you are in stingray-land.
From this experience, we've learnt some valuable safety rules:
Divers and snorkelers sometimes lie or kneel on the sand to take pictures. Remember to look carefully at the surface of the sand for evidence of a partially buried stingray before settling there.
Don't swim too close over the top of stingrays.
When in shallow water, don't hop/jump around. You want to avoid accidentally stepping on a stingray which may provoke their defensive action.
Stingrays are Friendly Creatures
During our visit to the Stingray City Sandbar, we had the chance to learn how to respectfully interact with these prehistoric looking creatures. We learnt to cradle them from the front like a baby, had the chance to have them swim up against our backs and we even got to smooch them! We're glad to say that the handlers handled them respectfully and softly as well.
[notification type="star"]
TAKEAWAYS:
When in Cayman Islands, Stingray City and Stingray City Sandbar is a must visit!
The water at Stingray City Sandbar is waist deep. You'll take a boat out to just the inside of the barrier reef where you then carefully get off the boat and stand on the sandbar.
Wear sunglasses to protect your eyes from the sun and reflections off the surface of the ocean. Prevent losing your sunglasses by attaching retainers.
We wore rash guards (our water shirts) for further SPF protection.
Stingrays get their name from having a stinger that is venomous.
Stingrays use their stinger for protection when they feel threatened and not for attacking.
Softly cradle the stingray from the front. They feel like soft shiitake mushrooms!
Don't lift the stingray out of the water or hold them in a position they are not comfortable with (e.g. if they flutter aggressively, they're probably trying to get loose or feel threatened).
Lesson learnt: For divers and snorkelers who like to lie or kneel on the ocean floor to take pictures, be sure to check the sand for half buried stingrays before settling down on the ocean floor.
Lesson learnt: Do not hop around when standing in areas with stingrays. You want to avoid accidentally stepping on a stingray that is swimming by.
Lesson learnt: Do not swim too close and over the top of stingrays. They may feel threatened and will raise their tail and stinger for protection which could accidentally pierce you.
Remember (Thank you to Jessica for the advice): It must be noted that while the rays here are very docile and used to people, rays in the wild should be left alone and all creatures in the sea should be respected.
[/notification]
Have you visited Stingray City or interacted with stingrays before? Do leave a comment!
If you liked this post, don't forget to +1, tweet, stumble, like and share this post!