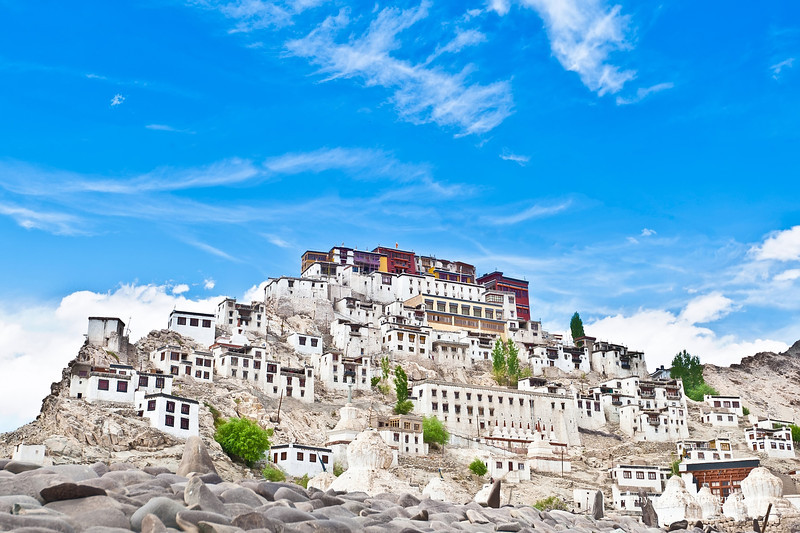 Besides visiting one of the highest motorable passes in the world (Khardung La) and camping overnight at a lake 15,000ft above sea level (Pangong Tso), most people go to Leh to visit monasteries in the area. Thiksey Monastery is among the many famous monasteries in Leh.
Most of the places we visited while in Leh required hours of driving through rugged mountain terrain. A nice change of pace for us was our visit to Thiksey Monastery which is only about 18km from Leh city (about 30 – 45min drive from the city).
Before visiting, we were told that the 600 years old Thiksey Monastery (aka Thiksey Gompa) is one of the most beautiful monasteries in Ladakh. The 12-storey complex is considered one of the finest examples of Ladakhi art and architecture. Perched atop a hill slope at about 11,800ft (~3,600m), it is a stunning sight as you get closer to it and offers a beautiful view of the Indus Valley below it.
Thiksey Monastery is home to about a hundred monks, 10 temples, many valuable artifacts and ancient relics. The top attraction at Thiksey Monastery is a two-storey tall (~15m) statue of Buddha which was built in 1970 to commemorate a visit to Thiksey by the Dalai Lama.
The statue is a representation of Maitreya (aka "The Buddha of the Future"). It took four years to construct, is made of clay and is covered with gold paint. Inside, the statue is filled with volumes of Buddhist canonical texts.
The monastery also houses a school that provides free education (classes include knowledge of Buddhism as well as computer education) to children from poor families. They also provide food and medical assistance to the children.
[two] [/two] [two_last] [/two_last]
We sat at one of the benches at the edges of the monastery to take a break and admire the view from the monastery. While we were resting, we took out a couple chocolate bars we had with us for a snack.
Three children approached us and smiled at us while eyeing our snack. I smiled back and offered them the snack. They excitedly took the snack, smiled at me, said "Juleh!" and off they went to their play area. This was another one of the "magic moments" we experienced – with a smile and the word "Juleh". Turns out the kids were children of the construction workers nearby that were working on restoring some parts of the monastery.
[notification type="star"]
REMEMBER:
Thiksey Monastery is among the many hundreds of monasteries located in Leh.
Buddhist monasteries are one of the top attractions for people visiting this region.
 Thiksey Monastery is about 600 years old and is perced atop a steep hilltop at about 3,600m (~11,800ft).
It is considered one of the most beautiful and largest monastery in Ladakh.
A famous attraction at this monastery is the 2-storey tall statue of Buddha of the Future, Maitreya.
This monastery is among the few attractions within a short drive away from Leh city.
This is a nice destination to visit for those that are not keen on the longer drive, rougher terrain driving to reach other attractions.
Entry Fee: We paid an entry fee of Rs20 (~USD$0.42) near the top of the monastery. There was a monk sitting at the top of the stairs who collected the fee from us.
The monastery is open 7am – 7pm.
Take off your shoes prior to entering any temples/prayer areas.
Wear non-revealing clothing as a sign of respect (e.g. clothing that covers your limbs). I don't think they enforce this but it's respectful to do this anyways.
Do not disturb monks at prayers, do not touch religious artifacts, drink, smoke, talk loudly or disturb the peaceful atmosphere.
Walk around the statues and prayer areas in clockwise direction.
[/notification]
Have you been to Thiksey Monastery before? Does this place remind you of another place you've visited? Do share through our comments section.
Also, don't forget to stumble, +1, tweet, share and like this post!